Find a Heart Care Specialist:  (832) 355-DOCS (3627)
International Patients:    (832) 355-3350


Baylor St. Luke's Medical Center, home of Texas Heart® Institute (THI), is an internationally recognized leader in heart care. Together, St. Luke's and THI form one of the world'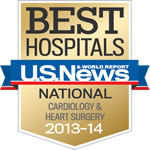 s largest cardiovascular centers, offering a full range of specialty heart programs. Those programs are provided by cardiovascular and cardiology specialists who are among the world's most experienced, operating in one of the most respected research and educational settings in the world.
Why Choose CHI St. Luke's Health for Heart Care?
Premier heart hospital. U.S. News & World Report  has ranked THI at St. Luke's among the nation's top 10 centers for cardiology and heart surgery every year since 1991 when the ranking began. We rank as a top four center for 2011-2012.
Cardiovascular history-maker. St. Luke's has teamed with THI for some of the most important medical achievements in cardiovascular history - including the nation's first successful heart transplant, the world's first total artificial heart transplant, and effective methods of preventing heart attacks by reducing the formation of artery blockages.
Breadth of experience. To date, we have performed more than 250,000 cardiac catheterizations,115,000 open heart surgeries, and 1,100  heart transplants.
International referral center. We treat the most complex cases, with patients from 85 countries coming to St. Luke's each year for heart care.
Pioneering cardiovascular surgeon Dr. Denton A. Cooley founded THI in 1962 for the understanding, diagnosis and treatment of cardiovascular disease, and chose St. Luke's as its clinical partner. Today our world-class physicians continue to lead in innovative, ground-breaking research, including the use of adult stem-cell therapy in creating new heart muscle and vascular cells. Our experts also are testing prototypes for a total artificial heart and working to improve left ventricular assist devices (LVADS) and other heart pumps.
Learn more about our history and how we continue to offer the latest technology and treatment options as one of the world's leading heart and cardiovascular hospitals.